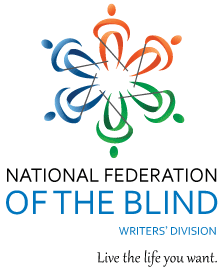 NATIONAL FEDERATION OF THE BLIND WRITERS' DIVISION
WELCOME
The National Federation of the Blind knows that blindness is not the characteristic that defines you or your future. Every day we raise the expectations of blind people, because low expectations create obstacles between blind people and our dreams. You can have the life you want; blindness is not what holds you back.
Purpose
The purpose of this organization shall be to advance the interests and expand the opportunities of blind writers, to share the spirit and techniques of writing and publishing, and to promote the welfare of blind persons through writing.
-NFB Writers' Division Constitution, Article II
LINKS TO IMPORTANT SECTIONS OF OUR WEBSITE:
For more information contact our division's President, Myrna D. Badgerow.
The Writers' Division Needs Funding To Carry Out Our Mission.
Consider donating money to our cause. Your gift can be used as a tax credit, for we are a current 501(c)3 non-profit organization. The PayPal button provided below is a safe and easy method for making your monetary contribution. Thank you.
Our National Organization Also Needs Funding To Complete Our Nation Wide Mission!!!!
As a national fundraiser, the National Federation of the Blind has partnered with Vehicles for Charity to launch a new vehicle donation program. The NFB's vehicle donation program accepts almost any vehicle, including cars, trucks, boats, motorcycles and recreational vehicles. All donations may be eligible for a tax donation on your federal income tax return. For more information, including how to donate, please follow this link!